Moving houses in Kenya, however, comes with several untold challenges that many tenants have to contend with.
Several real-life experiences narrated to Kenyans.co.ke on Thursday, August 6 revealed some of the most common challenges faced while moving in major cities and towns in the country.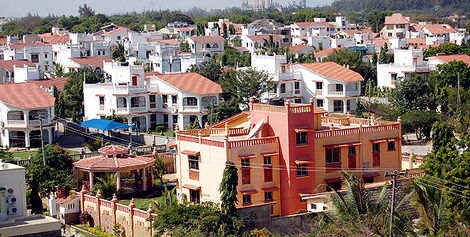 File photo of lavish houses in Nyali, Mombasa
FILE
A common issue many tenants faced was clashes with agents, caretakers and landlords over rent deposit refunds.
In many cases, the tenants' efforts to obtain the refunds, despite prior agreements, were futile. In others, landlords demanded even more than the deposit amount, citing works undertaken by tenants on the house, such as repainting.
To avoid such squabbles while moving, tenants are advised to have written agreements with their landlords on deposit refunds and the conditions for the same, as well as an inventory to guide assessment of the state of the house.
Another common complaint, particularly for those working 9-5 jobs, was that they struggled to obtain time off to allow them for move.
"I had been kicked out of my last place. I found another place through friends, but I was unable to move for so long someone else almost snatched up the place.
"This is because my bosses kept telling me to wait to get my off days, and at the same time, I was under pressure to leave my old place," recounted Danny* (name changed to protect identity).
According to labour laws in Kenya, an employee is entitled to rest after working for six consecutive days. Make sure you make early arrangements with your employer to allow you sufficient time to move.
Many who moved also observed challenges in securing transport fit for the purpose of moving their items. In some instances, breakages and losses of valuable items were reported during the moving process.
"They broke my wall unit and I couldn't charge them for it, I was so disappointed. Nowadays I place my TV on the baby cot," recounted one Sabina*.
Notably, many Kenyans opt for informal moving services to cut down on expenses. While it often does the trick, those more concerned about keeping their possessions safe through the process are advised to use moving companies.
Moving companies provide an inventory of all items, packaging and tracking until they get to the new destination.
Other important tips to remember while moving include to first de-clutter your belongings; deciding what to keep, donate and sell before packing.
Remember to pack as early as possible and create an inventory to ensure you don't forget anything.
Make transport arrangements early as well, and ensure the vehicle transporting your possessions is fit for the job. Also get your utilities in order, including electricity and water before leaving.